2022-2023 Show:  Twilight Zone
View the 2022 Summer/Fall Schedule for Marching Band.
Check back for more information!
---
ABOUT OMEA CONTESTS
Band classifications are based on school enrollment in grades 10-12:
Class AA   901 or more
Class A   501-900
Class B   301-500
Class C   300 and fewer
The Ohio Plan of Adjudication (The Five Rating Plan) is used:
I   Superior
II   Excellent
III   Good
IV   Fair
V   Poor
Trophies and and awards vary at each event, but may include:
Placement trophy (in each class)
Best Auxiliary (by class or overall)
Best Percussion (by class or overall)
Best Music (by class or overall)
Grand Champion
---
Past Award Winning Shows:
2021-2022 Show:  Puppet Master
Puppet Master Movement 3 (Grom/Mapes), Puppet Master Movement 2 (Grom/Mapes), Puppet Master Movement 1 (Grom/Mapes)
Field Commanders:  Edward Furlow and Joseph Shaw
Soloist:  Charlie Farno (trumpet), Isabel Tadych (guard)

2021 Puppet Master Performance Videos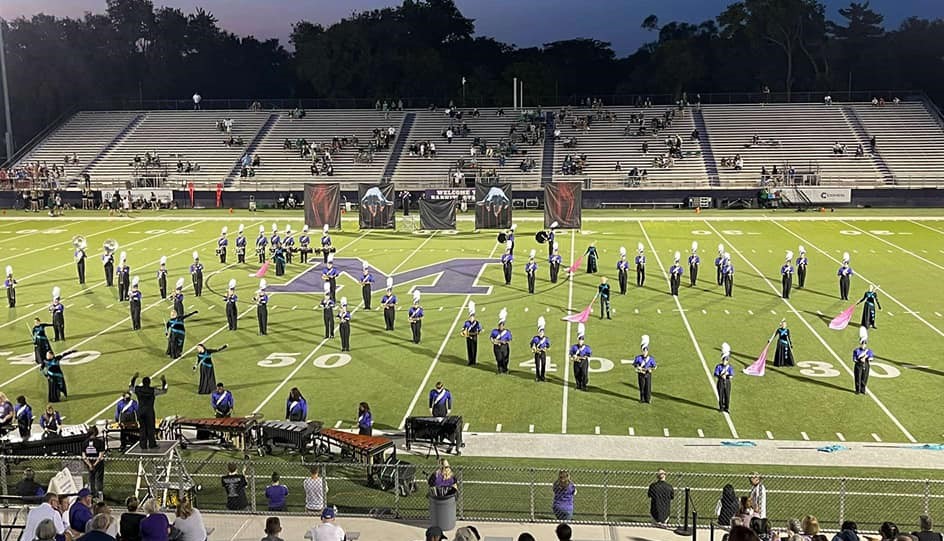 2021 Fall Competition Schedule
10/31/2021   2:00pm at OMEA State Finals
Welcome Stadium |
1601 S Edwin C Moses Blvd, Dayton, OH
Earned SUPERIOR RATING at OMEA State Finals!
OMEA State Finals Photo Gallery
10/23/2021   Springfield Shawnee
Earned superior rating and qualified for State Competition!
10/16/2021   9:00pm at Tecumseh Contest
Earned superior rating and qualified for State Competition! Awards include:
4th Place Overall out of 15 bands
1st Place Overall for Color Guard (auxiliary)
2nd Place overall for Percussion
10/09/2021   7:30pm at Versailles Marching Band Invitational
Hole Field | 422 W. Wood St., Versailles, OH 45380
Earned superior ratings and qualified for State Competition! Awards include:
Grand Champion
1st Place Overall in Class AA
1st Place Colorguard overall and in Class AA
1st Place Percussion overall and in Class AA
1st Place Music overall
1st Place General Effect overall
09/25/2021   8:00pm at Hamilton Band-O-Rama Contest
Virgil Schwarm Stadium | 1165 Eaton Avenue, Hamilton, OH 45013
Earned superior rating and qualified for State Competition! Awards include:
09/18/2021   8:30pm at Logan Elm Contest
Logan Elm High School | 9575 Tarlton Road, Circleville, OH 43113
Earned superior rating and qualified for State Competition! Awards include:
Co-Grand Champions
Best Overall Music
Best Overall Visual
1st place in Class AA (tied)
2nd place Color Guard
Percussion scored an excellent rating (despite being overwhelmingly rookies)
Group Statistics
CLASS: AA     STATUS: R & RANK     OMEA DISTRICT: 13
WINDS: 59
PERCUSSION: 22
AUXILIARY: 13
TOTAL: 94
September 2021 Home Game Photo Gallery
2021 Puppet Master Performance Videos
---
2020-2021:  Into the Unknown
Field Commanders: Trinity Icaza, Isaac Hackney
2019-2020:  The Coven
Field Commanders: Isaac Hackney, Trinity Icaza, Gabe Ware
2018-2019:  Wanted
Field Commanders: Stevie Kontnier, Hailey Ingram, Trinity Icaza
2017-2018:  Pearl Harbor
Field Commanders: Theo Cox, Stevie Kontnier, Hailey Ingram
2016-2017:  Julius Caesar
Field Commanders: JJ Peil, Theo Cox, Stevie Knotnier
2015-2016:  Charlotte, A Spider's Story
Field Commanders: Mackenzie Mattox, JJ Peil, Irene Smith
2014-2015:  H20