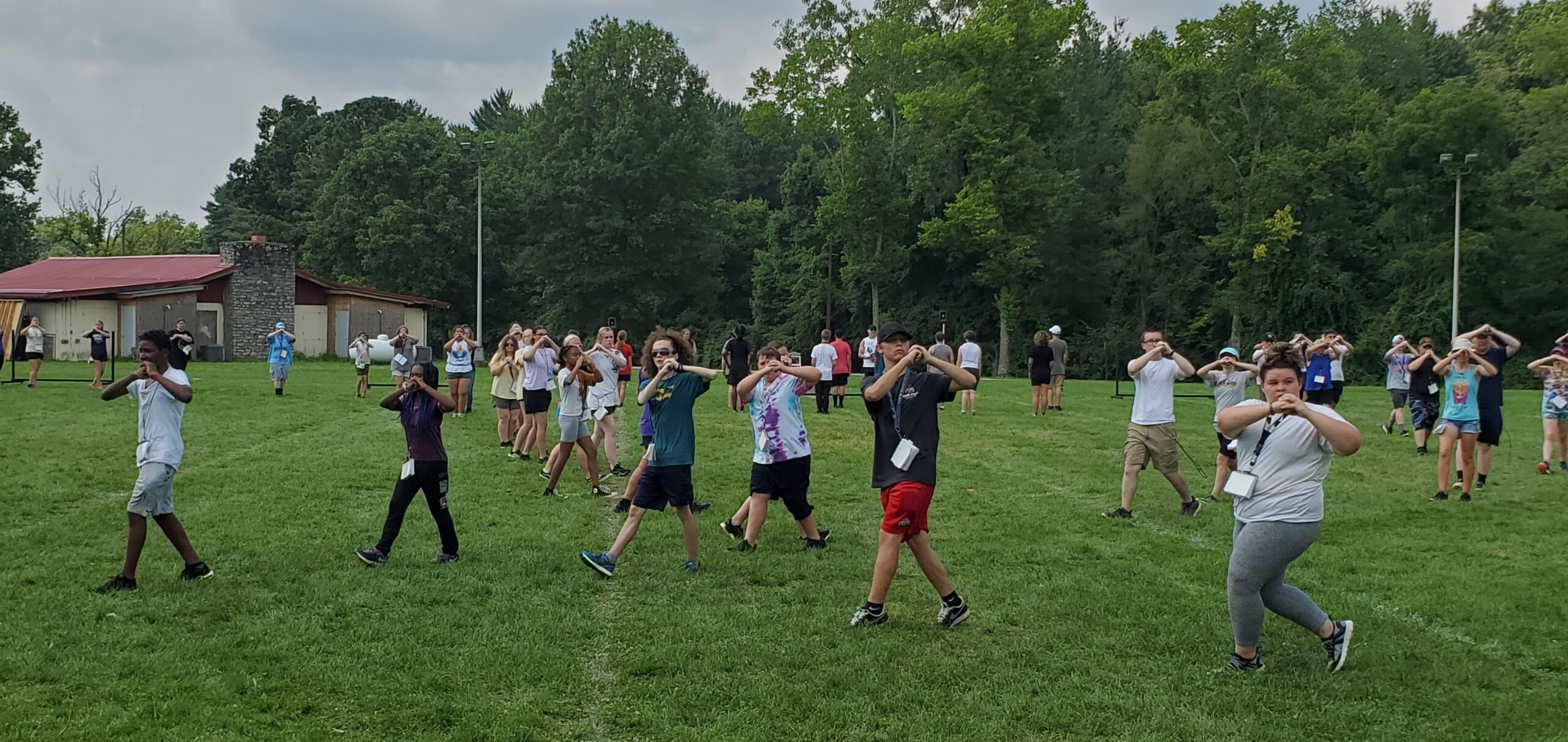 Band Camp is designed to be an enjoyable and enriching learning and social experience. Band Camp is a time in which we learn a great deal of our contest show and build the team aspects necessary to be successful. Because of this, band camp is mandatory for all those who wish to participate in marching band.
Where:  Southern Ohio Church of God Youth Camp, 2429 Moore Sour Road, Morrow, OH 45152
Arrival:  Each student must furnish their own transportation to and from camp. Plan to arrive at camp between 2pm and 3pm on Sunday. Students and parents will then check in and make sure all paperwork and payments are complete. The evening meal will be provided to all students at 5pm.
Departure:  Loading and departure will be after 4:00pm on Friday afternoon. NO ONE WILL BE ABLE TO DEPART UNTIL ALL CABINS HAVE BEEN INSPECTED AND APPROVED.
Parents and visitors are not permitted at camp at any time, except in the case of emergency situations when authorized by a director.
What to Bring to Band Camp

---
Luggage: One footlocker or duffel bag, or two small suitcases.
Lace-up tennis shoes (recommended: two pairs of tennis shoes)
Rain gear (necessary since practice sometimes occurs in  the rain)
Towels, sheets, blankets or sleeping bag, and pillows (camp does not furnish towels or bedding)
Clothes and personal items (recommended: two t-shirts for each day)
At least two pairs of socks per day (morning socks may  get damp)
Sun protection, including sun block, sunglasses, and hat with brim
Insect repellent
Toiletries
Swimsuit
Flashlight
Petty cash for refreshments during social events ($20 is  more than enough for the week)
Lock for suitcase or bags
Snacks
Alarm clock
Water bottle with student name
Mechanical pencils (needed at every  rehearsal)
Instrument, music, lyre, flip folder, reeds, and all other musical accessories
Three ring binder with page protectors (about 20 sheets.)
If you own a wire music stand, please bring it. We are always short on stands.
DO NOT BRING large stereo equipment, TVs, refrigerators, microwaves, etc.  All electrical appliances deemed unnecessary will sent home with parents. Camp electrical system can not support these types of items in the cabins and they can be a fire hazard.

Rules and Regulations
---
1.) Possession of drugs, alcohol, or tobacco at camp will result in immediate dismissal of  the student(s) from camp without refund of fees and dismissal from band for the  remainder of the year. Since it is a school related activity, school disciplinary  procedures will be carried out to their fullest as well.
2.) Any student or students found guilty of theft of MHS property, camp property, or  property of other students will be dismissed from participation in band activities and  prosecuted as necessary.
3.) Any student found guilty of defacing or destroying camp property will be dismissed  from camp without refund of fees. In addition they will be assessed the full cost of  any necessary repairs.
4.) Students will abide by camp rules and those school rules and regulations which are  applicable, as stated in the school handbook and the MCSD Code of Student Conduct Policy.
5.) This is a time when we are to begin building a sense of team, and each individual is an important part of the band as a whole. Therefore, there will be no initiation or hazing of any kind. Any student not abiding by this rule may be sent home from camp, and school disciplinary measures will result as well.
6.) Students must attend and be on time for all band camp activities, including meals.   Evening activities that are run by the camp director are NOT optional and must be attended by everyone.
7.) Public displays of affection are not allowed at any time during band camp.
8.) Students are not allowed out of their cabins after lights out unless permission is given to them by their counselors. Any student caught outside of their cabin after lights out may be removed from camp activities upon the director(s) discretion.
9.) No visitors are allowed at the camp during the week.
10.) We suggest that students not bring cell phones, due to the fact that they may be stolen. If parents feel they must have a cell phone, it is at their own risk. Cell phones may not be brought to rehearsals or meals and may only be used during scheduled break times.
11.) Students must remain in open camp grounds at all times. Students may not go into the woods or venture off camp grounds. Students found off camp grounds may be removed from camp at the director's discretion.
12.) Students may not enter the cabins of the opposite sex at any point during the week, unless permission is given by a counselor or director for specific purposes.
13.) Medications must be turned in to the camp director with direction for use clearly labeled. The camp director will dispense medications at the appropriate times.
Band Camp FAQs
---
Q: How do I finish paying for camp, how much do I still owe, and how do I use fund raising credits to pay for camp?
A: You can send payment and forms for camp to the MMAC post office box until the Wednesday before camp starts.  Otherwise, when you drop off your student at camp, MMAC representatives will be available to take care of final payments and needed paperwork. The total cost for camp is $275 and we will have records of your balance. If you are using past fund raising credits to help pay for camp please notify the treasurer at camp registration.
Q: What time should my student arrive on Sunday?
A: We ask that students arrive at the campgrounds between 2:00pm-3:00pm on Sunday.
Q: When do we pick up students from camp?
A: We ask that parents not arrive before 4:00pm on that Friday afternoon. No student will be able to depart until all cabins have been inspected and approved.
Q: What should I do with my child's medication(s)?
A: We will have forms available for medication at both the band camp meeting and at camp registration. Please give medications to the camp director at registration and the camp staff will distribute those appropriately. We understand the importance of this role, and we will work to ensure the confidentiality and safety of every student. Please be clear about any special circumstances or history regarding your child's medication on the student medication sheet.
Q: If I have last minute questions, how can I get a hold of someone?
A: I will check my email throughout the weekend and will check my voicemail on Sunday morning. Please contact me at [email protected] .
Directions
---
Address:
Southern Ohio Church of God Campground (River's Edge)
2429 Moore Sour Road
Morrow, OH 45152
Phone:  513-899-3088
Dave Vick (Caretaker):  513-899-3529
From 1-71 South
Take Exit 32
Go left on 123
Take 123 to Gilmore
Go left on Gilmore Road
Go left on Moore-Saur Road to the Camp
From 1-71 North
Take Exit 32
Go right on 123Take 123 to Gilmore
Go left on Gilmore Road
Go left on Moore-Saur Road to the Camp